Managed Services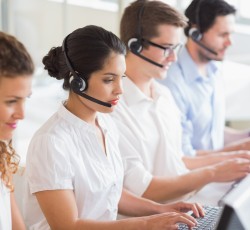 Our fully managed suite of services provides clients with peace of mind, all day every day. We monitor all network systems, protect against viruses, apply patches and ensure backups work. We find and fix small issues before they become big problems, often before clients are even aware there's a concern.
Remote Monitoring and Management
We proactively monitor your entire network around the clock. When a system or function fails, our support teams immediately dive in to identify the cause of the problem and fix it. Our remote management includes patch management as well as antivirus and malware protection.
Help Desk
Our U.S.-based Help Desk provides support 24 hours a day, 7 days a week, 365 days a year. The outsourced team of highly skilled, certified technicians can be reached by chat, phone or email and is ready and waiting to answer your technology questions and provide fast, professional support for a variety of software applications. Roebuck's Help Desk and NOC (Network Operations Center) has greater than 80% rate of resolution via remote access – and when IT issues require hands-on intervention, our field engineers will be there for you.
Backup and Disaster Recovery
Our data backup and continuity solution ensures your critical information is secure, backed up, and accessible whenever you need it, even during a network failure or a disaster. You'll never have to worry about data loss again. That's peace of mind.
Mobile Device Management (MDM)
The advent of smart mobile devices (cell phones, tablets, laptops, etc.) in the work environment, including employees' Bring Your Own Devices (BYOD), has created significant challenges for organizations to monitor, manage and secure mobile equipment to prevent data loss or security breaches. Our MDM solution adds a layer of protection and management, as well as hardware and application inventory; mobile app configuration, updating and removal; remote troubleshooting; and remote wipe of corporate data – all while maintaining employee privacy.
Virtual CIO Reporting and CTO Consultation
Roebuck Technology's Chief Information Officer (CIO) Reporting provides periodic assessments on your computing environment, identifying potential problems or trends that fall outside of safe or efficient parameters. With these evaluations, you'll always have the best information for choosing the most effective response option. Our Chief Technology Officer (CTO) consulting includes a regular review of your customized technology roadmap designed for your organization's comprehensive Digital Strategy.