With Florida businesses topping the list as the
second most likely at risk of cybercrime
(just after California) and more employees working remotely in the wake of COVID-19, cybersecurity has become a high-priority investment. Considering the wide range of practices, tools, and services available, how does one determine a quality security system? The CIA principles of security — a model designed to help business owners form their policies around information security — provides useful guidance. Standing for
confidentiality, integrity,
and
availability
, the CIA framework ensures your data remains protected, accurate, and exclusively accessible to authorized members.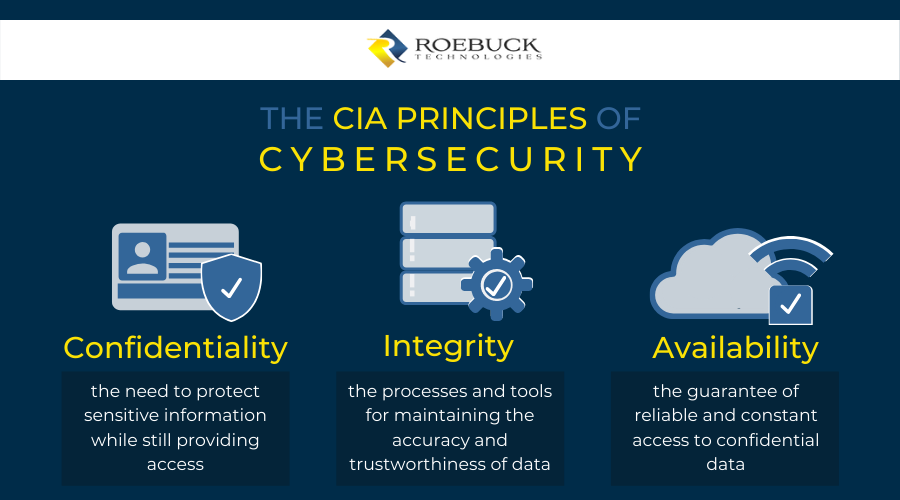 These principles have been around far longer than COVID-19, but they're now more important than ever. Below, we discuss each principle and the associated practices that help keep your business compliant and secure.
Confidentiality
Also referred to as privacy, confidentiality refers to the need to protect sensitive information while still providing access to authorized users. The number and severity of protective measures are determined by the potential damage that can result if your data falls into the wrong hands. In light of the unprecedented circumstances created by the coronavirus pandemic, new and updated strategies are required for every business. To ensure data confidentiality, this is a good time to educate employees on common risk factors and methods for mitigating these risks while working from an office or from home. Methods include password best practices, steering clear of online scams such as phishing emails, and using multifactor authentication (MFA), among other advanced cybersecurity solutions.
Integrity
This second principle involves the processes and tools for maintaining the accuracy and trustworthiness of data. Experts believe that demand for remote work will continue long after 2020, which means that your company must employ strict login methods and tools to track exactly when, where, and how data is accessed on an account-by-account basis. When it comes to tools that maintain data integrity, version control prevents accidental file changes or deletions by authorized users, backup and recovery systems restore lost or compromised files back to their correct state, and cryptographic checksums verify the integrity of recovered data.
Availability
Finally, we have availability, the guarantee of reliable and constant access to confidential data by those authorized to access it. If COVID-19 forced your business to quickly transition to remote work, did every one of your employees transition with zero hiccups? Probably not. Maintaining reliable availability depends on effective security and backup measures as well as regular hardware and software updates. Systems monitoring ensures that all equipment and software are running at optimum performance and that those causing routine problems are repaired or replaced. System upgrades must be implemented as required, as these ensure enhanced security, speed, and performance of devices.
Help your remote workforce thrive!
Enter your name and email address on the respective fields on the right to receive our FREE guide to ensuring your staff's productivity while working remotely.
It's also important to ensure everyone has adequate bandwidth and eliminate any bottlenecks and "bandwidth hogs." Low bandwidth and spikes of unnecessarily high usage can slow down communications and performance across your network, causing problems in data availability and efficient access. Last but not least, a proper disaster recovery plan is vital. The risks of data loss, theft, or interruptions are higher than ever as employees work from personal devices and hackers create new attacks that prey on coronavirus fears. Ideally, data backups should be stored in the cloud as well as on hard drives in a fireproof, waterproof, isolated location.
No matter how small or large a business is, an effective, robust cybersecurity system is necessary.
Roebuck Technologies offers companies end-to-end security solutions to keep their data safe from both common and advanced digital threats. Our experts employ a stringent combination of products and services to help you form strong, reliable defense systems for your business. Enquire with us today to ensure the confidentiality, integrity, and availability of your data.