The coronavirus pandemic is changing the way many businesses function. Due to social distancing guidelines recommended by the World Health Organization (WHO), people across the country are working from home. Thanks to high-speed internet and Cloud technology, many businesses can remain operational and productive by creating a digital workspace. In fact,
nearly half (44%) of American companies now employ some form of digital workplace program
, with 95% of organizations agreeing to its importance. Many companies plan to maintain work-from-home policies for at least a portion of their employees for months, if not longer, after uncertainty surrounding the coronavirus subsides.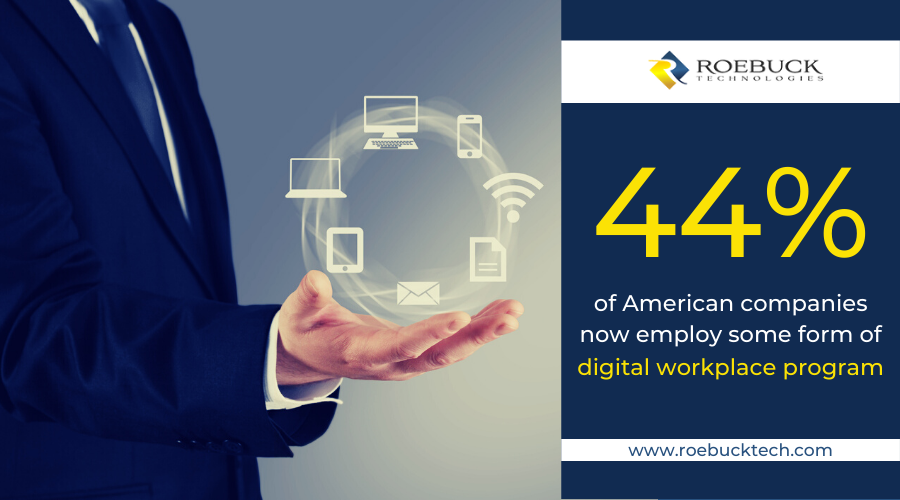 But how does one cultivate a productive digital workspace? Businesses must take crucial steps to create a digital workspace, and Roebuck Technologies can help.
Device strategy
Managers must first consider how employees will be accessing business data. Will laptops or desktop computers be provided? Will tablets be a necessity? Should the company be providing equipment to workers — or should the Bring Your Own Device (BYOD) model be embraced? Several studies have proved that allowing
workers to use personal devices boosts productivity and satisfaction
. Able to work with familiar equipment, employees learn how to do remote work more quickly and efficiently. Encouraging employees to use personal devices means saving capital expenditure dollars to enable a remote workforce. However, the spend should transition to mobile device management in order to monitor usage and productivity.
Devise the right strategy for a thriving remote workforce!
Download our FREE guide to ensuring your staff's productivity while working remotely.
Social engagement and collaboration
Connectivity between workers is the backbone of a productive team, so business owners must ensure that the proper tools and infrastructure have been provided for clear, efficient communication. Companies may choose to employ specific mobile apps or a workplace Intranet to keep workers engaged in conversations and social exchanges. Video chat and instant messaging apps are also growing in popularity among businesses during the pandemic. Microsoft Teams, in particular, is a secure, feature-rich platform for keeping remote teams in sync, setting up video conferences, and collaborating on documents. Of course, workers will require a proper file sharing system and a virtual platform for project management to maintain effective collaboration. Cloud storage services like OneDrive for Business can help you achieve just that.
Customer service tools
With customers at the heart of every business, it is helpful to incorporate the proper digital systems for reaching out and catering to client needs as well. Chatbots are a common tool for online customer service, to help with common or frequently asked questions (FAQs). Chatbots can provide instant replies to customer queries, reducing the stress and workload of customer service agents. Chat tools also can be made available 24/7, providing quick, almost immediate support whenever customers need answers. Online platforms for consumer discussion are also valuable in molding business strategy. Popular social media websites such as LinkedIn, Facebook, and Instagram are now dominated by businesses, providing convenient channels for directly communicating with and receiving feedback from your target market.
Cloud technology
With all the benefits the Cloud provides, and with
91% of businesses now on a public Cloud
, it would be a shame to let your company fall behind. Business owners can save money by
migrating to a trusted Cloud platform
, giving employees access to manage and collaborate on digital projects without the need for individually installed software or specific devices. Cloud services alleviate the need for in-house infrastructure and make it simple to adhere to social distancing guidelines by moving worker activity and data storage online. Shifting to Cloud technology has the capability to offer a stable, affordable platform for cultivating a productive digital workspace.
Cybersecurity
Investing in
robust security for your digital workspace
is nonnegotiable, especially with the
United States experiencing millions of data breaches
by the year (and
Florida landing among the top three victimized states
). Cybercriminals are taking advantage of the fear and anxiety caused by the coronavirus pandemic by creating more and more deceptive online scams. For instance, coronavirus phishing emails claiming to be from the Centers for Disease Control and Prevention (CDC) are tricking unwitting users to click on dangerous links and download malicious attachments. To create a safe and stable digital workspace, you must enforce cybersecurity policies such as enabling multifactor authentication (MFA) and setting access restrictions throughout company data. You must also invest in the latest firewall protection, encryption methods, antivirus software, and regular security training among employees. Additionally, regular
security audits and assessments
can keep your systems free from vulnerabilities.
Implementing a digital workspace is more important than ever in these harsh times, and the best way to start is by getting the latest IT solutions and infrastructure. Roebuck Technologies offers businesses in Florida and throughout the country with advice, tools, and services related to cloud migration, cybersecurity, corporate VoIP, and plenty more.
Invest in the tech both you and your workers deserve — digital workspace or otherwise — and
enquire with us today
.